Orkney.com is a publicly-funded website used by visitors to the islands and locals alike and managed by the Orkney Food & Drink team. A huge number of businesses on Orkney rely on the trade from the tourists who stream onto the islands from cruise ships, as well as the holidaymakers who visit for weekend breaks and longer holidays.
When Covid-19 wiped out all tourism trade, the Orkney Food and Drink team decided to step in to help - which is when they contacted Dynam. Over the course of 2020 and 2021, we have been running a series of online campaigns specifically aimed at increasing traffic to the directory of independent Orcadian makers on the website. Our job is to inspire people to buy food, drink and crafts direct from the makers' own websites.
Omni-channel campaigns
We use a carefully selected combination of paid-for Facebook and Instagram campaigns, MailChimp e-newsletters, organic Twitter content, Google Search ads, Google Display and influencers to achieve the project goals. After two successful campaigns earlier in 2020, we created and delivered a digital marketing campaign in the run-up to Christmas, to encourage people to 'Unwrap Orkney this Christmas'.
Combining striking visuals with inspirational, persuasive copy, we launched our three-week campaign in November 2020. It was our best yet, and got the following results:
• Web traffic grew 135% compared to the same 3-week period in 2019
• At least a third of all sessions on the site came directly from our campaign (nearly 30k)
• The Shop Crafts and Shop Food And Drink pages were the top two visited pages on the website, above even the homepage.
This campaign achieved impressive results against our objectives, but the true impact is best demonstrated by the feedback we received from the makers the campaign was designed to benefit. Quernstone saw online sales in December increase by 950%, Celina Rupp doubled her sales compared to 2019, and Jollys of Orkney had to suspend online sales on 12th December due to the incredible amount of early orders. This made us very happy.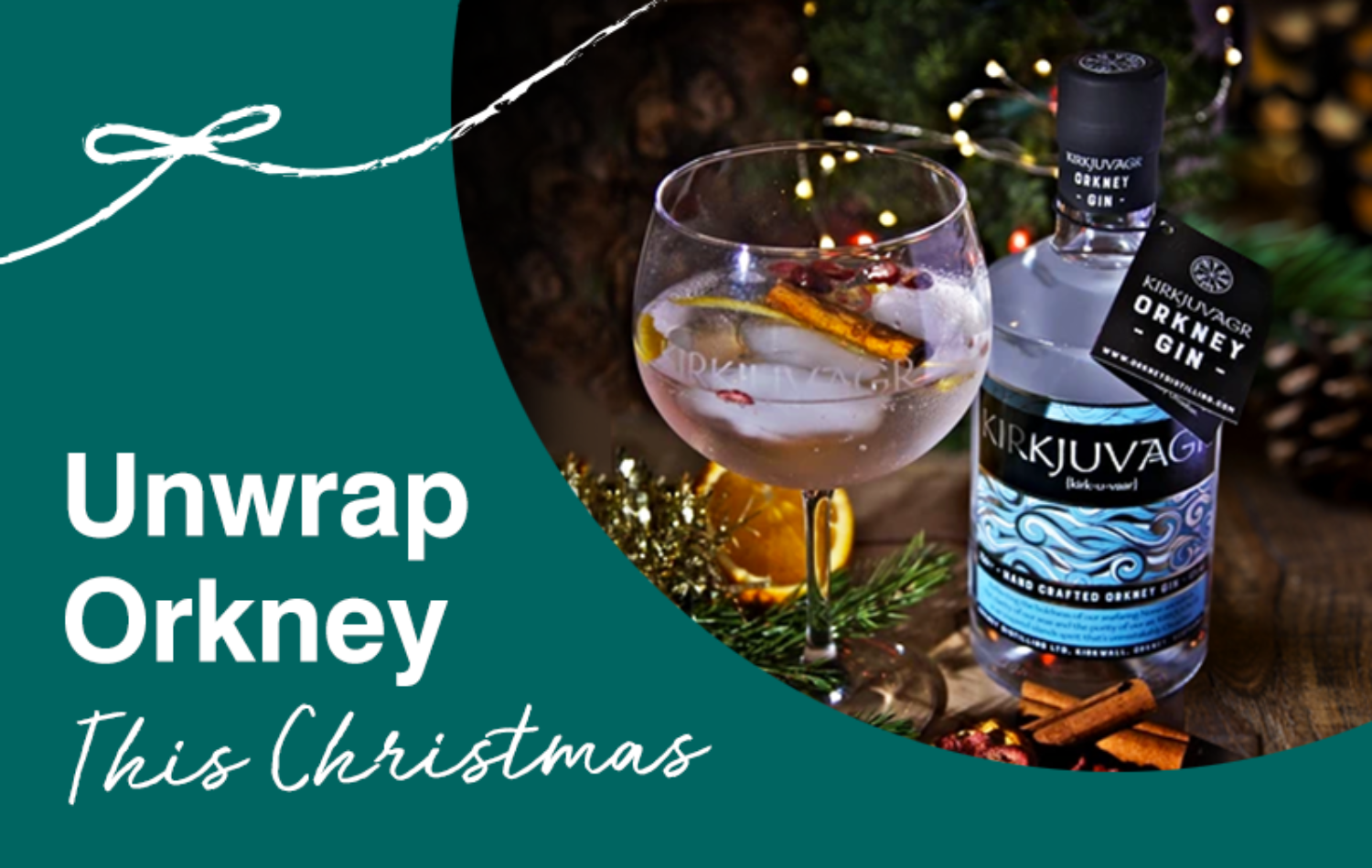 Here's more detail about how we did it for all the digital marketing fans out there.
Paid-for social media
We ran a paid-for campaign on the social media platforms most frequently used for researching products prior to purchase, Facebook and Instagram, using a video created by our designers as the main creative asset. We used learnings from the previous campaigns, as well as desk research, to build bespoke audiences based on the product categories we were promoting. We also split the audience down further into age groups which helped our adverts perform even better. As well as the video, we created a series of carefully-targeted carousel ads.
Email Marketing
Still with us? We devised an email marketing strategy which sent a total of three mailings to the target audience throughout the duration of the campaign, targeting the list at different levels of the purchasing funnel (awareness, interest and action). We designed each newsletter, wrote the copy and set up the automation.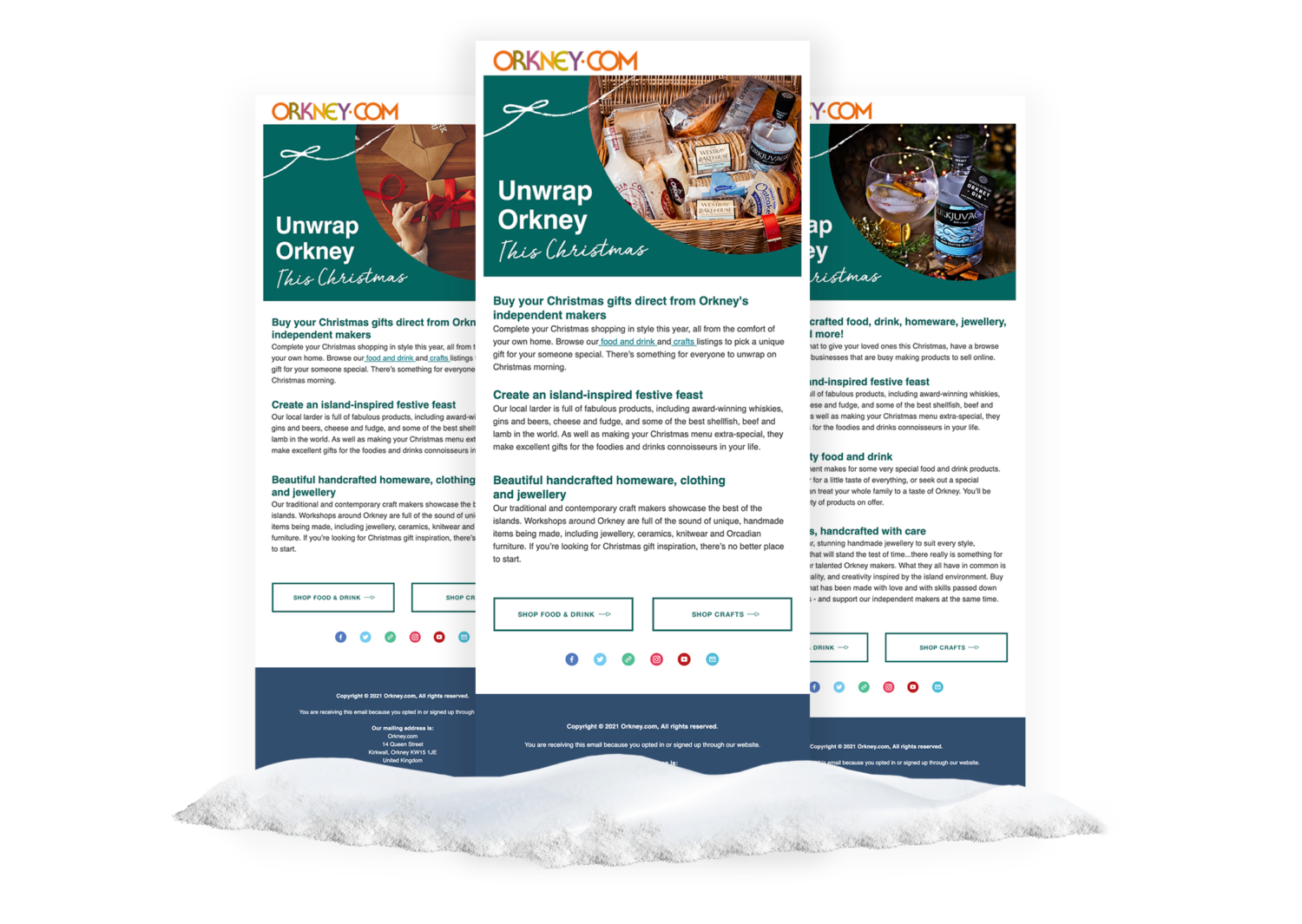 Google ads
We used search and display adverts to capture people at different stages of the buying journey - search ads to target those searching for the kind of products on offer on Orkney.com, and display ads to remind those who had visited the website to go back and buy products. We used specialist SEO software to carry out research on the phrases to include in our Search campaign, and we worked with the Orkney.com website developers to update the on-page copy for each landing page, to optimise our campaign.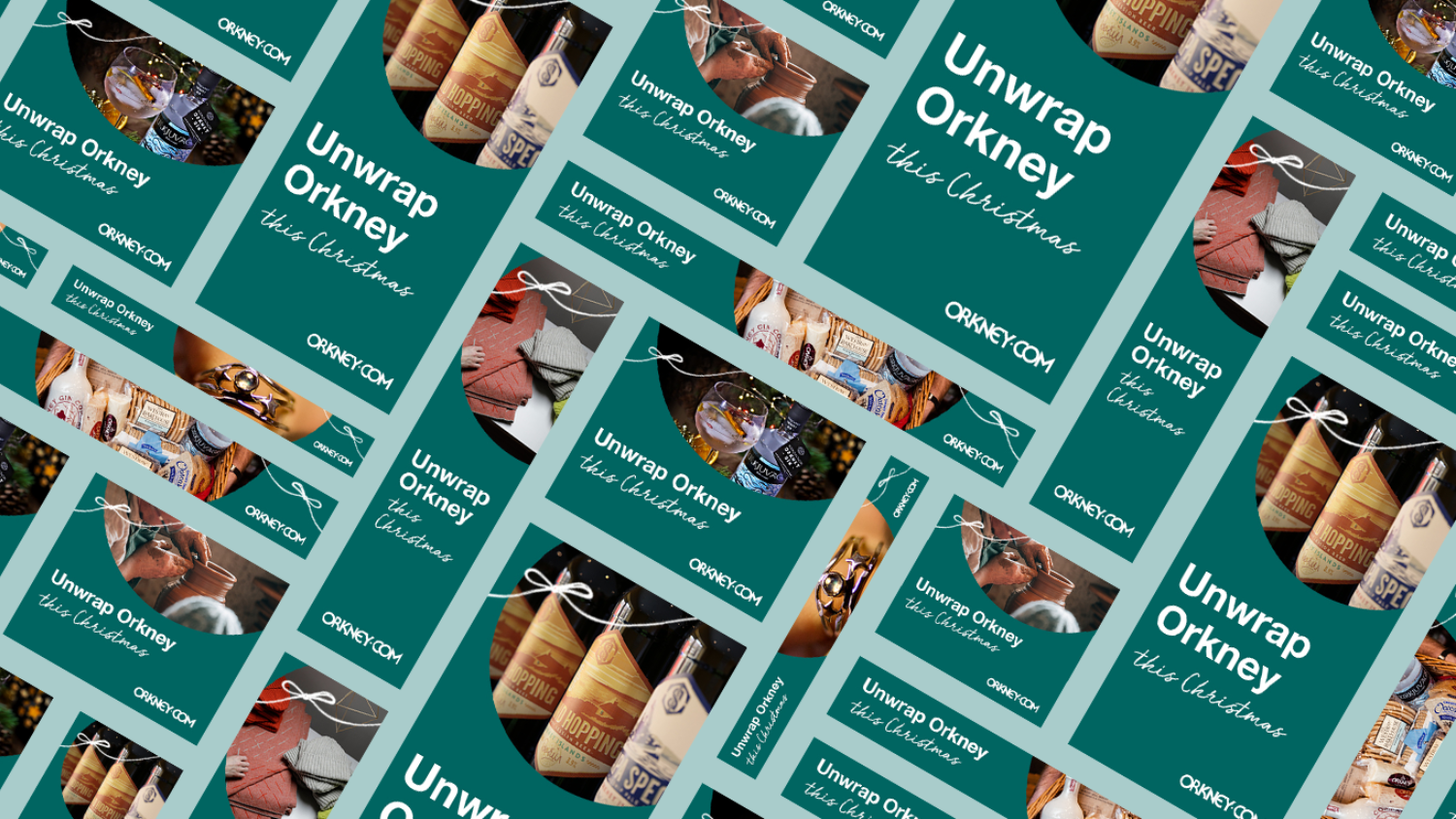 Influencers
We used an influencer discovery tool to identify a number of bloggers who had an affinity with Orkney and collaborated with them to develop content that would promote the independent makers on Orkney to their audiences. On top of this, we discovered that TV personality Lorraine Kelly is a massive fan of Orkney, so we contacted her to see if she would support our campaign. To our delight, she said yes - and for anyone who's wondering, she really IS as lovely as she seems on the telly. We heart Lorraine.
If you think that we could help you with any of the services mentioned on our website, we'd love to hear from you.