Tulloch Homes is an established and respected housebuilder, and a long-standing client of ours. As you can imagine with a relationship that goes back over 20 years, we've worked on a huge variety of projects together, but the overall aim has always been the same: raise the company's profile and help them sell more houses.
While we did this via print and outdoor advertising back in the day, we've helped them remain current in more recent years by developing a high-ranking website, running omnichannel marketing campaigns and consulting on their marketing strategy.
Website
Dynam created Tulloch Homes' latest website in 2018. By carrying out customer research in advance and documenting the needs of various key users, we were able to create a bespoke website that caters to the target demographic and drives conversions. It includes an interactive site plan function to allow prospective buyers to fully explore a development and individual plots and house types, without having to physically visit. We built search functionality with advanced filtering systems within the site so consumers can search for homes by geographic location, number of bedrooms and specific house types. We also included sections where Tulloch Homes can host resources for home buyers to learn more about the process of buying a home.
Branding
Dynam has been developing and growing the Tulloch Homes brand for longer than anyone can remember. We maintain the brand across several mediums from brochures to social media content and even the signage for their developments. By having a clear brand strategy in place and a detailed set of brand guidelines, we help Tulloch Homes to maintain their professional image.
Digital Promotion
Tulloch Homes builds developments with several different price ranges and target markets. We mainly focus our efforts online and approach each campaign separately. To engage users, our strategies have included pay-per-click (PPC) media, mainly using social media and display and search ads. We complement these with varied email strategies dependent on the target audience. When creating the content for these campaigns, our copywriters and design team are on hand to develop the assets, including email templates, video, animations or static 2D graphics.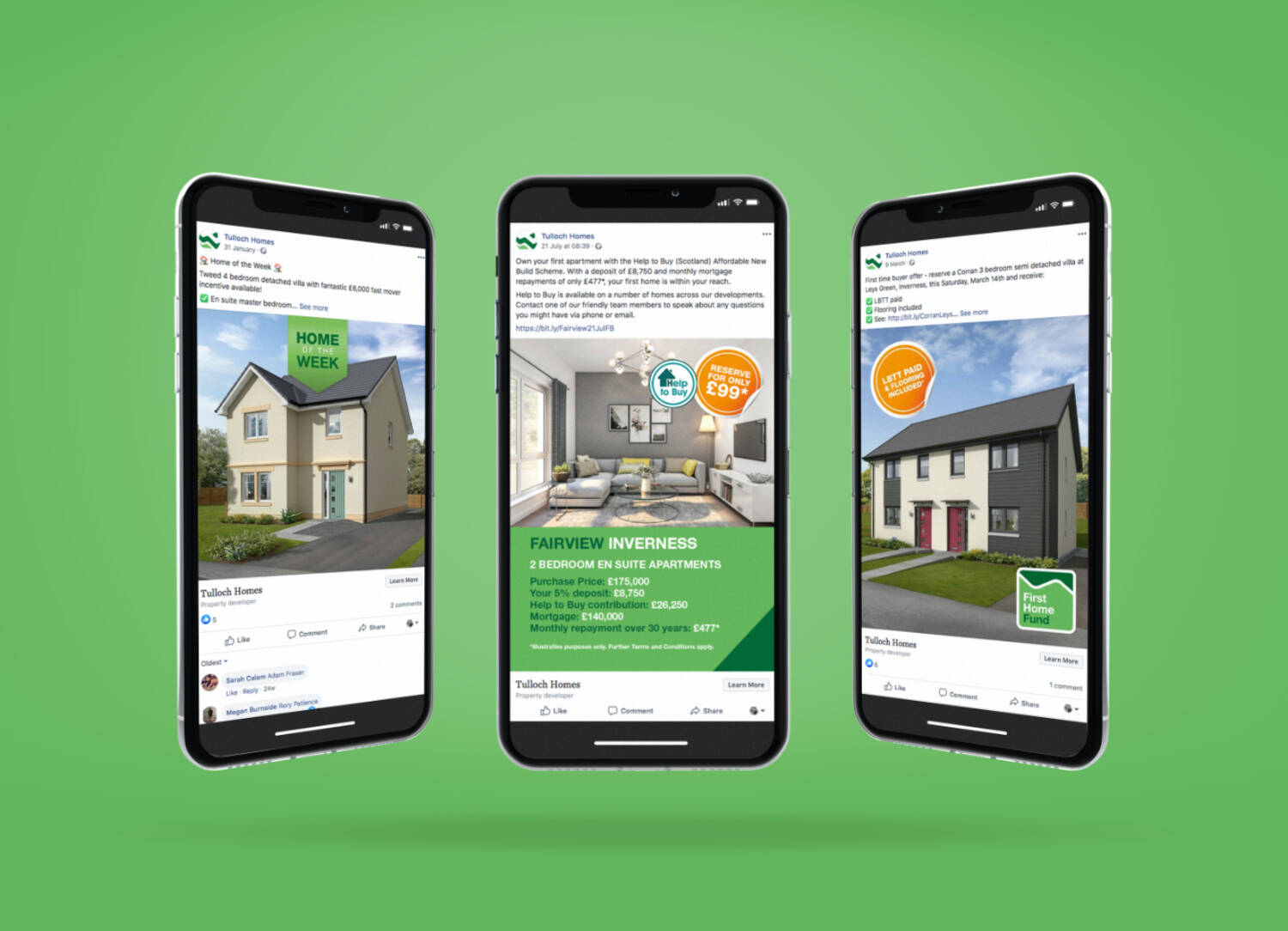 Filming
Buying a home is a very personal experience and Tulloch Homes are constantly looking to provide extra user experience within their offering. As part of the buying cycle for their customers, we here at Dynam, see the value in film as a way of achieving just that. Our team has travelled the length of Scotland to visit Tulloch Homes various sites to create films that will resonate with customers and aid them in their journey along the buyer's journey. We have created videos that highlight the specific developments, showcase specific house types and walk customers through their buying journey with Tulloch Homes and their After Care offering.
If you think that we could help you with any of the services mentioned on our website, we'd love to hear from you.